This article provides an overview of the three different types of templates that are used in an InspectionXpert project
Video Tutorial:
Video file 29th of April, 2020
Ways to enhance your viewing experience:
InspectionXpert uses three different types of template files:
Project Templates:
Project templates are nothing more than a record of all the custom settings that you've created in an InspectionXpert project. Any changes that you make to the InspectionXpert "Options" window can be saved as a project template, and used in a new project. In order to create an InspectionXpert project template:
Begin a new project, and select an "out of the box" template that contains the Units of measure you'll be using in your pr

oject:



Import a drawing into your new project, and make any changes to your project options that are required. Examples of changes that can be made include balloon size, balloon color, font, and OCR settings, default tolerances, and any other settings that you may change in the InspectionXpert "Options" window:

When you have finished setting your options, be sure to click "Apply", and "OK".
You can now save the file as a Project template. Click "File","Save As" and select
"InspectionXpert Project Template", then Save the file: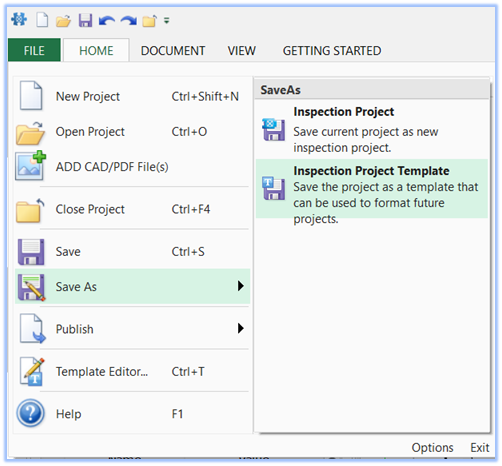 The default storage location for all template files in InspectionXpert is:
C:\Users\Public\Documents\InspectionXpert\InspectionXpert OnDemand 2.0\Templates
This default folder can be modified ( for Project and Excel templates only) by clicking on the "Templates" option in the InspectionXpert "Options" window and modifying the folder path shown:

Excel Report Templates:
Excel report templates are used to extract characteristics from your
InspectionXpert project and place them in your Excel report: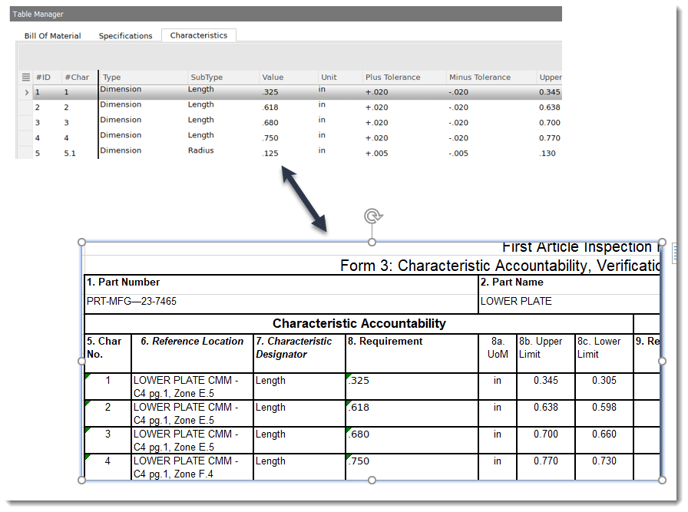 Excel templates can be edited by opening them inside the InspectionXpert
template editor:
Click "File" , then select "Template Editor":

Select the template file you wish to edit, then click "Open". Your template will open with the "Template Editor" window visible:

The template editor uses "Tokens" which are placed into individual cells in your Excel template. Tokens are a line of code that is used to extract specific characteristics from your InspectionXpert project.
By default,
For more information on how to use the InspectionXpert Template editor, review the articles in the following InspectionXpert Knowledgebase section:
CMM Templates:
CMM templates are used in InspectionXpert Advanced to import CMM data files
into an InspectionXpert project and assign measurements to the correct characteristics within that project: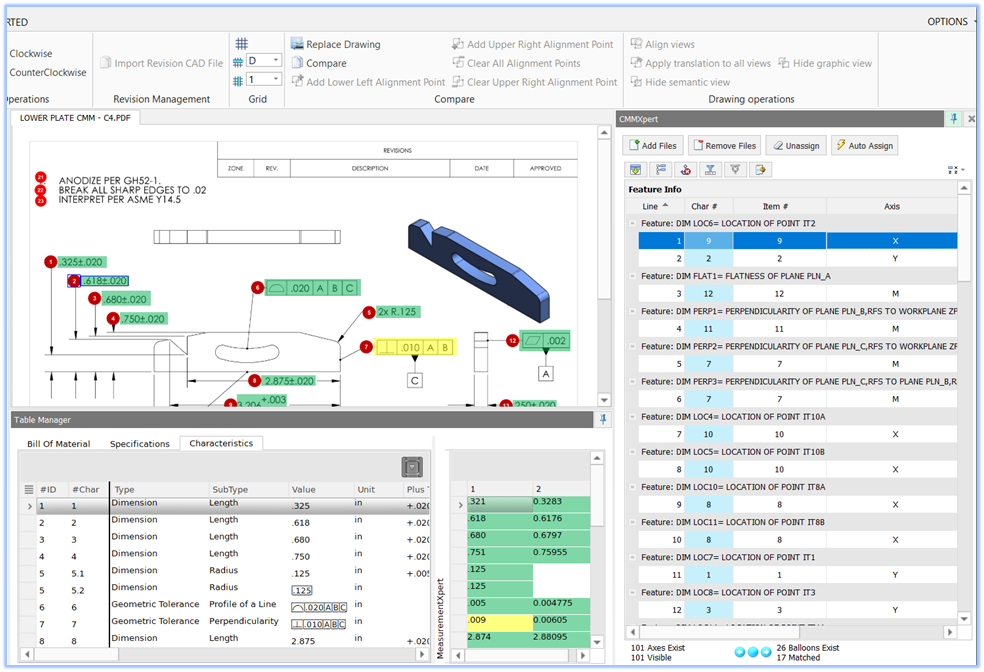 If you are using the CMMXpert plug-in to import CMM measurement files into your InspectionXpert project, you will first select the correct CMM template file:
To select the CMM template, click the "CMM settings" icon:

In the "Template Control" window, select the CMM template that matches your CMM equipment:

Then Import your CMM data files, and auto-assign them to your project characteristics: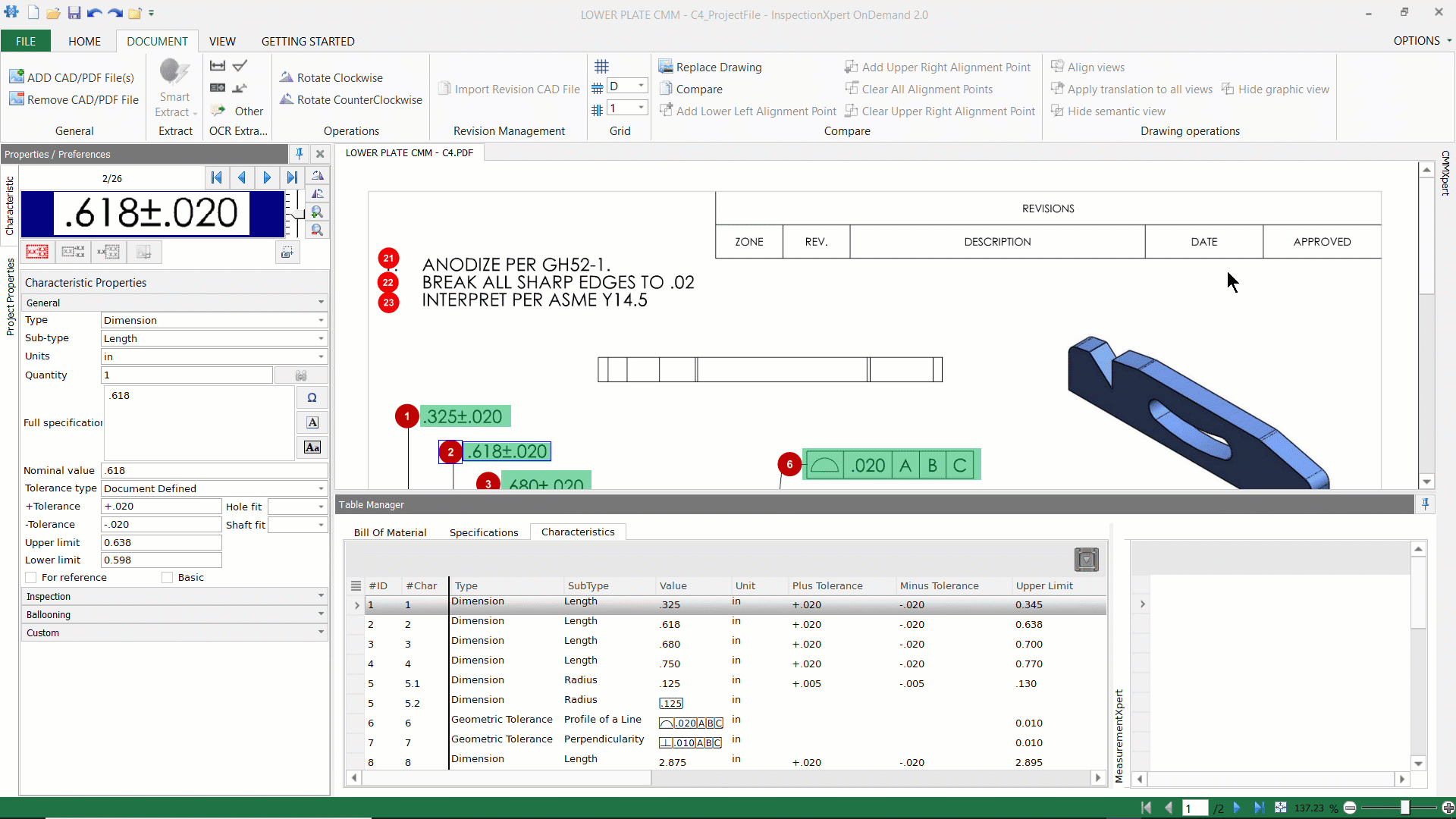 Contact our support to help you properly implement CMMXpert into your workflow.