Use Grouping to Create Sub-Characteristics
Grouping can be done by selecting two or more consecutive characteristics or balloon numbers.
Video Tutorial:
Video: 21st of January, 2020
Step-by-Step Guide:
1. Highlight the characteristics in your table manager that you want to group: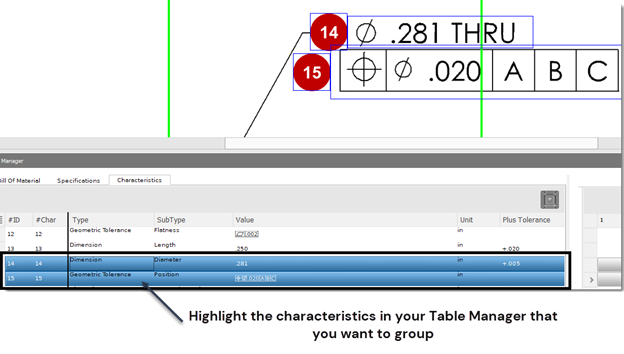 2. "Right-click" on your highlighted characteristics in your table Manger, then click on 'Grouping'.
Choose either 'Group' or 'Group with shared balloon'.
'Group' balloons 14 and 15 to create balloons 14.1 and 14.2
'Group with shared balloon' for balloon 14 and 15 to create only balloon 14
To UnGroup:
select the rows in the table manager of the grouped characteristics

Right-click on the selected rows in the 'Table Manager'
Click on 'Grouping'
Click on 'Ungroup' to return to their original balloon and characteristic numbers